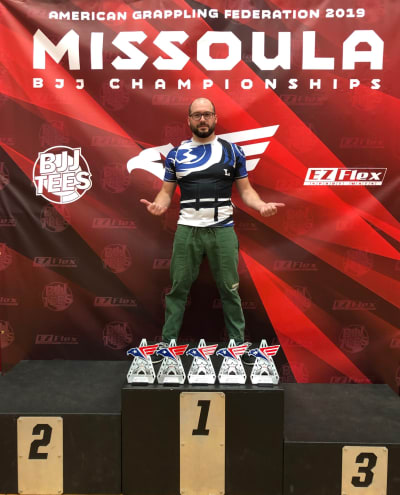 Bradley Allen Lehuta

Coach Bradley has been on the mat from his time as a youth. His father wrestled at Hellgate High school and Coach Bradley followed in his footsteps at HHS as well. A major shoulder injury prevented Brad from continuing his wrestling dreams during his Senior Year in HS but the passion that was sparked from his wrestling carrier never left him. After graduating High School in '99 at 17 years old, Coach Brad enlisted in the United States Navy and Spent 8 years of service as a CTM (Cryptologic Technician Maintenance) Petty Officer. During his service Brad dabbled in submission grappling and a little BJJ (GI Grappling) but due to the high operations tempo never stuck with training. When he separated from service in 2007 Coach Bradley finally decided to get serious about training Jiu Jitsu. At the time the closest to Brazilian Jiu Jitsu instruction was at local MMA Club in Missoula. Even though it wasn't exactly what he was looking for it was what was available. There he met a Gentleman named Aaron who once brought a Gi to practice with him. Brad would soon start Collage at SKC for Computer Engineering. He remembered meeting Aaron at practice and looked him up to see if he was training. He happened to be holding classes in a wrestling room at a middle school in Arlee Montana. Even though at the time the drive was around 1:20 due to road construction Coach Brad would make the drive three times a week to take class. And the rest is history! Defiantly a few tails to be heard from then until now. But those are for a later time.
- Coach Bradley is a family man with three Children, Ryle age 12, Bianka age 6 and Elek age 3 and his Wife Shantell.

- He holds the Rank of Faixa Preta (Black Belt) in Carlos Machado Jiu Jitsu
- Currently Pursuing a Black Belt in Judo.